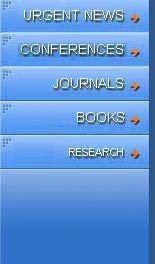 WSEAS Conferences in the University of Cambridge, February 20-25, 2011
From around 1200 submitted papers only 579 were accepted.
The highest rejection rate was observed in a Special Session with 50 papers where only 8 were accepted. We received some complaints and we explained that the policy of the conferences is strictly the reviews. We sent an email to
Dana simian <d_simian@yahoo.com> , Brindusa Covaci <brindusa.covaci@yahoo.com>, Milan Stork <stork@kae.zcu.cz>, Aida Bulucea <abulucea@gmail.com>, Zoran Bojkovic
<z.bojkovic@yahoo.com> , Valeri Mladenov <valerim@tu-sofia.bg>

This was the email of "complaints" from Prof. George Lazaroiu <phd_lazaroiu@yahoo.com> (actually these complaints confirm the highest rejection rate in the conferences of the Society)

As almost all the papers myself and my colleagues had uploaded were rejected
(more than 80%), it is absolutely impossible for us to join your conference,
although all of us would have been extremely happy to attend it (and we also
previously joined several other WSEAS conferences). It is quite strange as all
of them have been almost instantaneously accepted for publication by major US journals.



Kind regards,
George Lazaroiu, PhD
Institute of Interdisciplinary Studies in
Humanities and Social Sciences, New York
http://contemporaryscienceassociation.net/page/iishss

Another complaint was from Professor Malcolm Mackley <mrm5@cam.ac.uk>
and Dr. B.M. Green <bmg20@cam.ac.uk> (both from the University of Cambridge) about attendance in Continuum Mechanics. (Again we underline that these complaints confirm the highest rejection rate in the conferences of the Society)
The Organizers explained to them that a total of 66 papers were submitted to the 6th IASME / WSEAS International Conference on CONTINUUM MECHANICS (CM '11).
34 of these papers were accepted by the reviewers and only 11 of those authors registered.

Professor Malcolm Mackley and Dr. B. M. Green are with the
FREng Department of Chemical Engineering and Biotechnology
Pembroke St Cambridge, University of Cambridge

You can also see photos of some invited lectures: See an Album with 179 nice photos from the conferences here...
At the same time,
we had an email from ISI, that the ISI database was updated again in January 2011 (They update it every July and every January) and of course all the new WSEAS Conferences are included!
Should you want to see all the WSEAS Books and Proceedings in ISI, you must have MS Office version 2007 or later installed on your PC. Download the Excel File from the ISI web site http://science.thomsonreuters.com/m/excel/conference_titles_1998-2010.xlsx and open it with MS Office 2007 or later. (Check: your file .xlsx must have 122251 lines, otherwise it has been corrupted and you cannot see your WSEAS conference)
Alternatively, WSEAS has converted it to a Microsoft Access file and you can read it with any MS office version here http://www.wseas.us/conference_titles_1998-2010.rar (Check: your .mdb file must have 122251 lines, otherwise it is corrupted and you cannot see your WSEAS conference)
WSEAS Journals
The WSEAS Journals are entirely independent from the WSEAS Conferences, since they are currently candidates in ISI Web of Knowledge (all the WSEAS Conferences and Books have been already in ISI Web of Knowledge). Authors can send (upload) their papers to WSEAS Transactions regardless of whether they have attended a WSEAS conference or not. Also the WSEAS Transactions are the only open access journals in the world where the Authors do not pay any kind of registration fees or publication fees or "donation" (i.e. the full PDF files of the papers are permanantly open for everybody, without any restrictions, while the authors are not charged with any kind of fees). The Editors-in-Chief, being assisted by the members of the Editorial Boards, are the absolute decision makers for the acceptance or not of the submitted papers. WSEAS simply prints out the papers in hard copies & on the web.
Additional features of these conferences of WSEAS
1) Publication of the Proceedings in 3 media: hard-copy, CD, E-Library


(A) 10 books of WSEAS, NAUN, EUROPMENT with ISBN and ISSN indexed by the major Citation Indices (ISI ranked):
www.wseas.us/indexes
(B) CD-ROM Proceedings with pages' numbers with ISBN and ISSN indexed by the major Citation Indexes:
www.wseas.us/indexes

(C) E-Library: http://www.wseas.org/online and possible, for a very small number of papers:


(D) JOURNAL PUBLICATION: Expanded and enhanced versions of papers published in the conference proceedings also going to be considered for possible publication in one of
the various international journals that participate in the major International Scientific
indexes


The conference Books (Hard-Copy Proceedings), CD-ROM proceedings and
Journals (with selected papers) published by WSEAS Press continue to sell
for a long time after the meeting has taken place. This is another
demonstration of the prestige the scientific community attribute to the
meetings organized by the WSEAS.

For example, they are distributed via AMAZON: WSEAS @ AMAZON.COM

also WSEAS provides a very important tool to all the participants;
a permanent username and password for accessing WSEAS conference proceedings on-line for ever
INDEXES:
PROCEEDINGS: The Proceedings related to the Conference are covered by:
01. ISI (ISINET)
02. INSPEC (IET, former IEE)
03. CSA (Cambridge Scientific Abstracts)
04. ELSEVIER and Elsevier Bibliographic Database
05. ZENTRALBLATT
06. ACM
07. MATHSCINET of AMS (American Mathematical Society)
08. MATHEMATICAL REVIEWS of AMS (American Mathematical Society)
09. Directory of Published Proceedings
10. Computer Science Bibliography Administrator
11. American Chemical Society and its Index: Chemical Abstracts Service
12. European Library in Paris (France)
13. DEST Database (Australia)
14. Engineering Information
15. SCOPUS
16. EBSCO
17. EMBASE
18. Compendex (CPX)
19. GEOBASE
20. BIOBASE
21. BIOTECHNOBASE
22. FLUIDEX
23. OceanBase
24. BEILSTEIN Abstracts
25. ULRICH
26. MEDLINE
27. British Library
28. National Library of Greece
29. German National Library of Science and Technology
30. IARAS Index
31. World Textiles


JOURNALS:
The WSEAS journals are covered by:
01. ACM
02. INSPEC (IET, former IEE)
03. CSA (Cambridge Scientific Abstracts)
04. ELSEVIER and Elsevier Bibliographic Database
05. ZENTRALBLATT
06. MATHSCINET of AMS (American Mathematical Society)
07. ULRICH
08. MATHEMATICAL REVIEWS of AMS (American Mathematical Society)
09. Computer Science Bibliography Administrator
10. British Library
11. American Chemical Society and its Index: Chemical Abstracts Service
12. European Library in Paris (France)
13. DEST Database (Australia)
14. Swets Information Services
15. Engineering Information
16. SCOPUS
17. EBSCO
18. EMBASE
19. Compendex (CPX)
20. Geobase
21. BIOBASE
22. BIOTECHNOBASE
23. FLUIDEX
24. OceanBase
25. BEILSTEIN Abstracts
26. World Textiles
27. MEDLINE
28. Mayersche
29. Index of Information Systems Journals
30. National Library of Greece
31. IARAS Index

-------------------------------------------------
Feedback --------------------------------------------------------

See your feedback for the WSEAS Conferences:
within 2011: http://www.worldses.org/feedback2011.txt
within 2010: http://www.worldses.org/feedback2010.txt
within 2009: http://www.worldses.org/feedback2009.txt
within 2008: http://www.worldses.org/feedback2008.txt
within 2007: http://www.worldses.org/feedback2007.txt
within 2006: http://www.worldses.org/feedback2006.txt
within 2005: http://www.worldses.org/feedback2005.txt
within 2004: http://www.worldses.org/feedback2004.txt
within 2003: http://www.worldses.org/feedback2003.txt
For previous years, see: http://www.worldses.org/feedback.htm
Join us http://www.facebook.com/people/Wseas-Friends/1402856134